How to use INSTYLAN®
NATURAL protection of barrier function ofurinary bladder in case of cystitis
How to use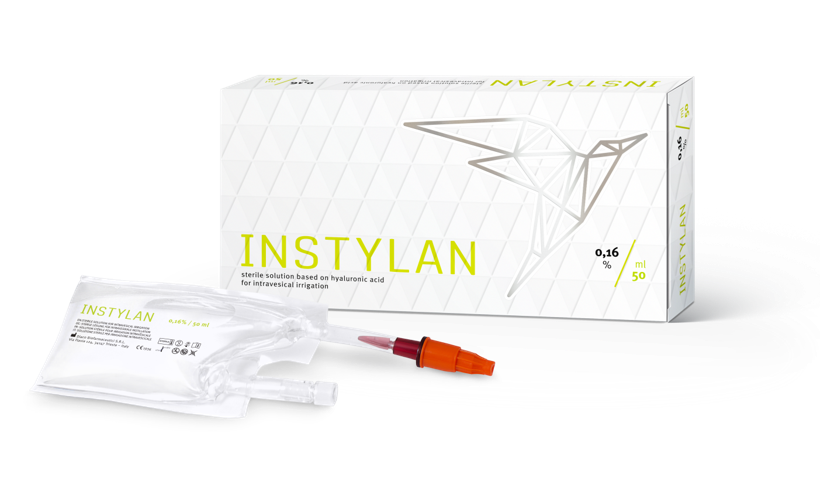 Check package integrity before use.
Check the expiration date indicatedon the bag. Do not use after theexpiry date.
Make sure that the bladder of thepatient has been previously emptied.
Warm the package to at least 20°С before use.
INSTYLAN® is administered into the cavityof the urinary bladder via a urologicalcatheter; the duration of therapeuticexposure is from 30 minutes to 2 hours.
It is suggest that the sterile solution INSTYLAN® is used weekly for the first month and with lessfrequency in the following months.
Shelf life:
2 years in an intact package.
How to store:
Store at temperatures between 5° to 30° C (inclusive),away from direct light and heat, in the adequately sealedpackaging.
Ergonomic packaging
Sterile 50ml pre-filled disposableplastic bag which contains 0.16 % (80mg/50ml) of hyaluronic acidsolution with a urethral catheter connector in a vacuum plastic packaging.

SELF-MEDICATION CAN BE HARMFUL TO YOUR HEALTH
Before using the product offered on this information resource, it is recommended to consult your doctor and read the instructions.

Information about medical products for the professional work of health professionals. INSTYLAN (INSTILAN) 0.16% colorless, transparent, viscous gel of hyaluronic acid of non-animal origin, sterile, physiological pH.

INSTYLAN 0,16% approved as Class ІІa medical devices. EU Declaration of Conformity. Registration number: DD 60107286 0001 Manufacturer: Diaco Biofarmaceutici S.R.L. Via Flavia 124, 34147, Trieste, Italy. E-mail: info@diaco.it. www.diaco.it.